JL-Heat Conductive Oil Series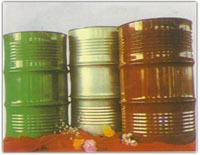 Appearance: Light yellow oil-like liquid
Description: Non-toxic, odorless, non-polluting; with good heat stability, large heat capacity and strong anti-oxidization ability, needing no nitrogen protection and safe to use; moderate viscosity, unlikely coking, high heat efficiency, obvious in energy saving; high flashing point and convenient in operation; non-permeating and non-corrosive to equipment.
Uses: Widely used in textile, dyeing and printing, chemical, building material, paint and food industry.

Package: 170Kg iron drum.
Item
Specification
JL-320
JL-330
JL-340
Dynamic viscosity(40°C)
≤32mm2/s
≤35mm2/s
≤37mm2/s
Flashing point (open)
≥190degree
200degree
210degree
Freezing point
≤-10degree
≤-100degree
≤-10degree
Acid value
≤0.05mgKOH/g
≤0.05mgKOH/g
≤0.05mgKOH/g
Distillation range (2%)
≥340degree
≥360degree
≥370degree
Corrosion test
Passed
Passed
Passed
Carbon residue
≤0.05%
≤0.05%
≤0.05%
Ash
≤0.02%
≤0.02%
≤0.02%
Moisture
≤0.03%
≤0.03%
≤0.03%