Net-On`s Banner Exchange - Business Advertising
China LinAn City
---
---
---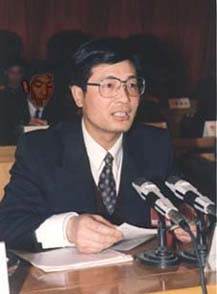 Speech of the city magistrate of LinAn
LinAn has a long history, with beautiful scene, honest and simple folkway, civelized etiquentte. Fortunately, I have been working here for several tens of year. I have been seeing how great undertaking the hard working city set. Now LinAn has an achieved political stability government and unity people and prosperous. The cloudy Tianmu mountain opening his arms and the Qingshan lake shining her blue eyes. I represent 500000 people of LinAn welome friends home and abroad warmly to come to our beautiful fertile city, investing, developing, visiting and give us helpful advice.
---
INTRODUCTION OF LINAN CITY
LinAn city lies to the South of Tianmu mountain, which is in the Northwest of Zhejiang province. Lying east to Hangzhou and west to Yellow mountain, LinAn is the key door between Zhejiang province and Anhui province. She is also the trade center between the two provinces. She is the only one mountain area city within Changjiang delta.
---
---
Natural resources:
LinAn has an area of 3126.8 square km,a population of 500,000 and the jurisdictional area including 15 towns and 24 villages. In 1986 she is authorized as the coastal developing economical city by the State Council. Rich natural resources, abundant rainfall, warm climate, all of these make its percentage of forest cover up to 71.3%. It has such an advantageous ecological situation that it breeds more than 4700 biological species. Tianmu mountain has a reputation of "species gene treasure store ". There are more than 20 kinds of miner resources. The reserve of tungsten-beryllium (metal content) ore is over 9000 tons, which is the only one mineral deposit within Zhejiang. Besides holding adundant reserve of nonmetallic mineral, there are about 80 milion tons of sodium bentonite, it is one of the biggest reserve at home. Changhua heliotrope is well known by the world because ofthe reputation of "the Nation Treasure". Waterpower resource is plentiful. It has exploitable capacity of 200,000 kW.
In 1990s, the multiple actual strength of LinAn is getting more and more strong because of the development of the economics and the improved living level. LinAn has ever been two sessions successively of the group of National first-hundred counties in the respect of multiple actual strength. People regard her as "Town of handwriting and traditional Chinese painting" and "Chinese bamboo town," also one of the first group of well-to-do country town.
Tea,dried bamboo shoots, hickory nuts are known by the world as "Three Treasure of LinAn." The silk has high quality and is in great demand. Unpolluted alpine vegetables are also in great demand among the nearby big cities.

---
Rapidly deviloping industrial economices:
There are 867 rural enterprises, 18 big-medium-sizedenterprises, 6 provincial enterprise groups, 2 municipal enterprise groups and more than 150 joint ventures,. The exporting products of the joint venture are over 100 kinds. Supporting estates concerns textile, cloth, wire and electric cable, building material, wine-making industry, food, electronic component, farming and forestry local product processing industry. Most of the industrial products have high quality. More than thousands of kinds of products have famous brands, special and new function. Two hundred thirty four kinds of new products and hi-tech having wined the National prize. Ten kinds of products such as "Little Prince" food has become the famous municipal brand. Sixteen kinds of prokucts such as FR-4 copper-covered steel, HYA102400 style communication electric cable used in local call have passed the attestation of ISO and gained the certification of International marked product. Industry of electric cable and watch screw have become the major producing bases,and both of them have occupied over 50% market.

---
Basic infrastructure projects:

The basic infrastructure projects are getting better and the investment circumstances are improved continuously. Hangyu highway passes through the city from east to west. Nine provincial highways across south to north, they are leading to the railway of Shanghai-Hangzhou, Hangzhou-Changxing and Anhui-Jiangxi. The total open traffic mileage is about 1385 kilometers. LinAn branch way of Hangyu highway which is investated 200 million RMB have opened to traffic. Qingshan Channel gets through with the Grand Channel and Qiantang River. Water and electricity facilities have got rapid increasing. There are 71 small waterpower stations with total installed capacity of 3600KW. With 40000 KW installed capacity and 270 million RMB investment in total,the Qingshan palace water-electric center is busy in building. It is expect to built up at the end of 1997. Thoroughly automatic dispatch and the power transmission network are coming into being. As an electrification city, LinAn have passed the check and acceptance by the province. Program control telephones are opened in 30 villages and towns. The total telephone capacity is up to 50000. In average, per hundred people own 5.5 telephones The systems of wireless telephone, broadcast pigeon and picturephone have been established.
Great changes have taken place in the partly basic infrastructue project. With the length of 5000 meters, Qianwang Road has been built up and opens to traffic. More than 10 building such as Qianwang Hotel is raised from the ground, and the buildings ofresidential quarter are getting more and more. The first-term project of the Second Water Work, which has 100,000 tons capacity, have been finished and open. The business quarters are getting completely. There are 33 trade markets and the necessary constructions are going perfect. The area of the city is expanded to 10.5 square-kilometer. The liveing level of urbanites is being improved day by day.

---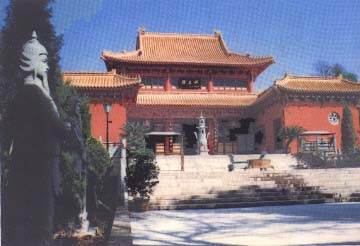 Rich tourist resources:
Mountains, lakes, forest, hot spring, corrosion caves, Buddhist temple and other ancient remains make LinAn be a mass of green treasure ground shining in Changjiang delta. Since ancient time, LinAn ten scenes, Tangchang ten scenes and Yuqian eight scenes have been famous. Tourist scenes are scattered from west to east, within several hundreds'kilometers. They are Longtang mountain, Daming mountain and Rijing cave, Tuanko hot spring, Tianmu mountain and Yuewang Hill, Linglong Hill, Tomb of King Qian, Qingshan Lake and Dongxiao Cave. Tianmu mountain, which has "the King Tree" in the world, is also regarded as "Green Treasure Ground", "Thousands of Treasure Ground". She had ever been the Holy land of Buddhism equally famous for Putuo hill, Ermei hill, Five platform mountain, and Jiuha mountain. Pointed to be one of the National Natural Preserve, she is also permitted to be a member of UNESCO of National biosphere preserve network. Tomb of King Qian is the only one complete tomb in the South of China, and it is an important preservation of cultural relics. The descendants of King Qian are all over the world. Qian qichen, Qian weichang, Qian zhengying, Qian xuesen, Qian sanqiang and Qian zhongshu, they are the outstanding representative figures. The area of the Qingshan Lake is 7.8 square-kilometer, two times than the West Lake in Hangzhou.It is a comfortable place for the vacation. With magnificent structure, the Rijing cave has unmatched corrosion stone blooms in domestic. The tourist resources in LinAn are distributed apart along Hangyu highway and which can be looked as a bridge to link Hangzhou and Yellow mountain. It has invaluable investment.

---
Developing education:
There are more than 10,000 scientific and technical workers and 18 institutions for scientific research in LinAn. Except Zhejiang Forestry Science University,there are various schools, such as television education school, television specialized-secondary school, vocational-secondary school and technical school and 570 elementary schools. Libraries can be seen here and there. Special style peasant's painting is well known by the world. LinAn city ever had a brilliant past and ever will have a magnificent prospects. During the Ninth-Five Plan,with their own feet, the LinAn people will take the advantage of Shanghai and Hangzhou and cooperate with Anhui and Jiangxi. They will open to the Whole Nation and participate actively in the international cycle for keeping the growth of the economics and the society coordinate and development. Facing the current opportunity, LinAn people will grasp the general situation of reforming, developing and steady. They will strengthen the agriculture and basic construction. Meanwhile, they will stand up the focal point of processing industrial economics, administration society and development of tourist. Forbuilding up LinAn as a city of powerful in agriculture, large scale in industry and specialized in tourist, LinAn people will try their best.
Linan having rich natural resources with warm climate.
There are more than 1000 enterprises. The exporting products are over 100 kinds. welcome you visit our website: www.linanwindow.com The main exporting product are:
1. Clothes: 100% silk clothes;other clothing.
2. Wire & cable.
3. Building materials
4. Green natural health food:green tea, hickory nut, bamboo shoots, gingko nut, Chinese shiitake mushrooms(lentinus edodes)--special mushroom
5. Bentonite product: sodium bentonite, cat litter.
6. Bamboo products: bamboo flooring,chopsticks,handwork,bamboo garments and accessories, bamboo hand bags, bamboo crafts,bamboo chair mats.
7. Hardware & handtools: slip-joint pliers, double open and wrenches. Combination wrenches, socket wrenches. Pipe wrenches, spooners auto series-tools.
8. Sports products: basketballs, volleyballs. footballs, water polo ,100% silicone swimming cap.
9. Electronic component: FR-4 copper clad epoxy resin glass laminate, case of electrolytic condenser, case of metallic condenser, rectangular case of condenser..
10. Chemical product: ion-exchange resins, membrane and DL-Tartaric acid, hydrogen peroxide. products.
In our trade with customers, we always adhere to the principle of equality, mutual benefit and the exchange of needed goods, thus, by joint efforts to promote both business and friendship to our mutual advantage.We will give you details of the various kinds of the above mentioned products now available for export if you are interested. We warmly welcome friends home and abroad to come to cooperate with us.