Shallow carrying basket
Shallow bowls or dish-shaped baskets are used extensively for carrying a variety of things. There are either balanced on top of the head or suspended from a shoulder beam. Some baskets are provided with handles for carrying while in other cases handles are provided only for picking up the basket in the process of lifting it to one's head.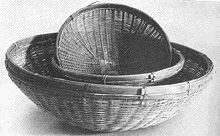 This bamboo product is typical of the carrying baskets, especially from areas on the plains of the Brahmaputra River. This bamboo product and other baskets, similar in construction and form, are used for various purposes (figs.437,438). They are used for carrying various commodities, and are also found in the bazaar as a shop display container.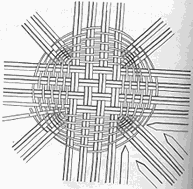 These baskets are balanced on top of the head and larger sizes are suspended from shoulder beams. They are made in large quantities by specialised craftsmen and sold at bazaars in the towns.