Fruit basket & Flower basket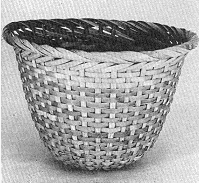 This basket is used for packing and transporting fruit and vegetables.(fig 405). The form of this basket is like a parabolic dome. The circular rim has a diameter of 350 mm and the height of the basket is 300 mm.
Weave Structure and Rim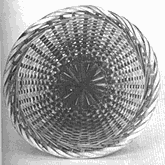 Wide outer splits of bamboo are used in the warp, overlapping radially to form the base (fig.406). The smooth outer surface of the warp faces the inside to form the basket. These warp elements are taken in pairs at the base, after which they fork out, to become two separate warp elements on opposite sides of the base. Only one pair remains parallel to move up one side in order to create an odd number of warp elements around the base. This condition is essential for a weft which is a single-start spiral to be able to weave in and out of consecutive warp elements and continue around the basket. The first few turns of the weft spiral is made from fairly thin bamboo splits.
Subsequent turns use weft elements which are almost the same width as the warp though the thickness is less. The rim is a self-strengthened helical construction, though the stiff bamboo ring and binding are not used (fig. 407).