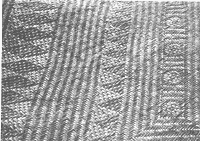 In addition to the flattened bamboo mats made, a wide range of bamboo mats are made from bamboo splits. Several of these are used in house construction while others are used as floor mats for sleeping on or as surfaces for drying and processing grains (fig. 776) Make sleeping mats from extremely fine bamboo splits.(fig. 777).These mats are plaited in a delicate construction and in most cases have figures or geometric pattern on the surface.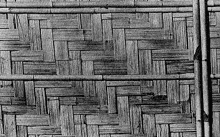 Other bamboo mats are made from splits 15 to 25 mm in width. These are used in wall construction, partition screens and in false ceiling construction. In addition to these a species of reed bamboo is split and converted into woven mats. The mats are used for fencing, walls, ceilings and floor covering.
Almost all region weave bamboo mats to serve various functions. The weave structures used are similar though the local names in each case varies.