The comb is intricately assembled from several splits of bamboo (fig.746). A number of fine teeth are shaped from individual bamboo splits. These teeth are held sandwiched between a pair of thick splits and this assembly is bound firmly with cotton thread (fig.747).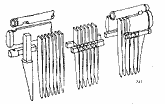 The thread passes between the teeth to create the required gap. The two teeth located at either end of the comb are specially shaped from thick bamboo split in order to protect the fine teeth between them. The thread binding is coated with a thick sticky resin to permanently set the teeth in place. The teeth elements extend below the sandwiching binding and these are covered by two wide splits of bamboo to form the handle.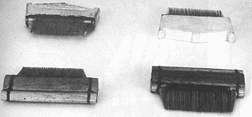 Beyond these a single whole culm length of a very small diameter is used to finish the upper edge of the handle. The entire assembly is now bound with cotton thread to complete the product. This results in an extremely neat construction, very intricately made, though the product is sturdy and functional.
In another variation made the handle is carved from soft wood and the bamboo teeth assembly which has been bound with thread is set into a groove at the bottom of the handle with the use of resin.